Black Voices (In)Justice: Supporting Black Youth Representation in the Legal Profession
CPD for Lawyers: 2.5 EDI Hours for LSO CPD Reporting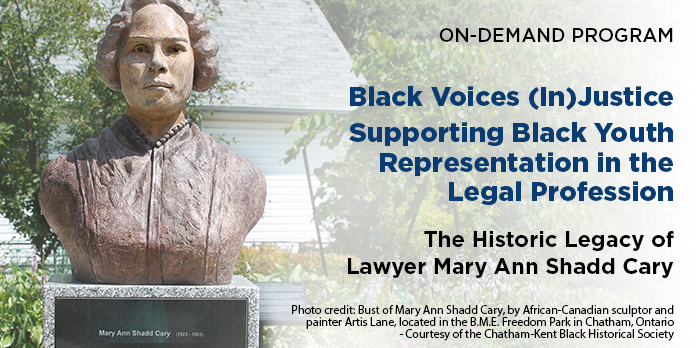 External Speakers:
The Honourable Michael H. Tulloch - Chief Justice of Ontario
Steven Cook - Site Manager and Curator, Josiah Henson Museum of African-Canadian History
Shannon Prince - Curator, Buxton National Historic Site & Museum
Matthew Sawabi - Western University Student, Political Science, Honours Specialization
Beatrice Rutayisire - Outgoing National Director of Communications, Black Law Students' Association of Canada
Sarah Coderre - Partner & Co-Founder, Bow River Law
Leslie McCurdy - Award-Winning Actor, Dancer and Choreographer
Beth Hanna - Chief Executive Officer, Ontario Heritage Trust
Join the Ontario Heritage Trust and Aird & Berlis for this special complimentary program, Black Voices (In)Justice: Supporting Black Youth Representation in the Legal Profession.
During this informative and engaging session, you will hear from law students, law educators, lawyers and legal sector representatives, as they discuss the profound impact Mary Ann Shadd Cary had on the fight for equality. Presenters will also examine diversity in the legal sector from historical and contemporary perspectives.

The program will include:
A message from the Chief Justice of Ontario, The Honourable Michael H. Tulloch
Overview of the trailblazing life of Mary Ann Shadd Cary (1823-1893) and her fight for equal rights and justice
Paths for entering law school and the legal sector
Importance of mentorship and fostering inclusion for Black communities
Insights from Black professionals working in the legal sector about their challenges, successes and opportunities
Question-and-answer session with guest speakers
Our event will conclude with an enchanting portrayal of Mary Ann Shadd Cary by actor and playwright, Leslie McCurdy, with an excerpt from her one-woman play, Things My Fore-Sisters Saw.
This program will be valuable for high school and university educators, students seeking learning and development opportunities, and those working in the legal sector.
For more information regarding registering for this online program, please email rsvp@airdberlis.com or call Adrian Babrikels Munoz at 416.863.1500 ext. 2541.