A&B's Energy Group Cycling Day - Wisdom, Wheels and Wine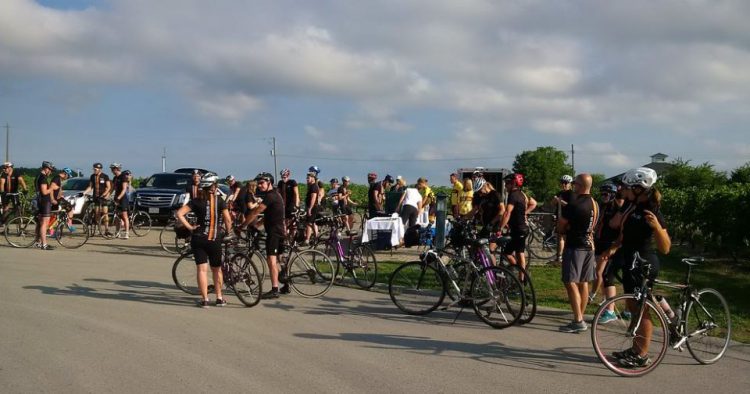 Attendees at the 5th annual Aird & Berlis Energy Group Cycling Day in Niagara-on-the-Lake enjoyed a brisk cycling tour of Niagara's vineyards, restorative yoga under a mid-day sun, and a culinary and viticultural experience amongst the vines at Inniskillin Winery. Representatives from all areas of the energy industry had a chance to connect and compare notes on their experiences and industry news.
In addition, retired World Cup racer Larissa Yurkiw inspired those in attendance by talking about the grit, determination and innovation that has characterized her skiing and entrepreneurial journey to the top of the skiing world. Larissa not only fought back from injury to retire as the 3rd ranked alpine skier in the world, but also conquered unchartered territory by independently raising the financial platform needed to fund her final World Cup journey.
Cycling Day attendees also heard from JoAnne Butler, Vice-President Market and Resource Development, Independent Electricity System Operator ("IESO"), on similar themes, as she described current initiatives undertaken by, and challenges facing, the IESO.
In discussing the IESO's market renewal efforts, JoAnne described the massive challenge the IESO faces in balancing the forces of supply, demand and innovation, and its efforts to build the foundation for a new and strengthened electricity market. The IESO is exploring a vision of creating a stable, transparent, and equitable platform for participants to bid into a market in a way that makes sense from an economic and reliability perspective. JoAnne also described the Market and Resource Development group's progress on, and successes in, the continued stakeholdering of the Large Renewable Procurement, the awarding of Feed-in-Tariff contracts, and the awarding of funding under the IESO's Support Programs.
The planning has already begun for the 2017 Energy group Cycling Day!