Government of Canada Purchases Trans Mountain Pipeline Expansion Project for $4.5 Billion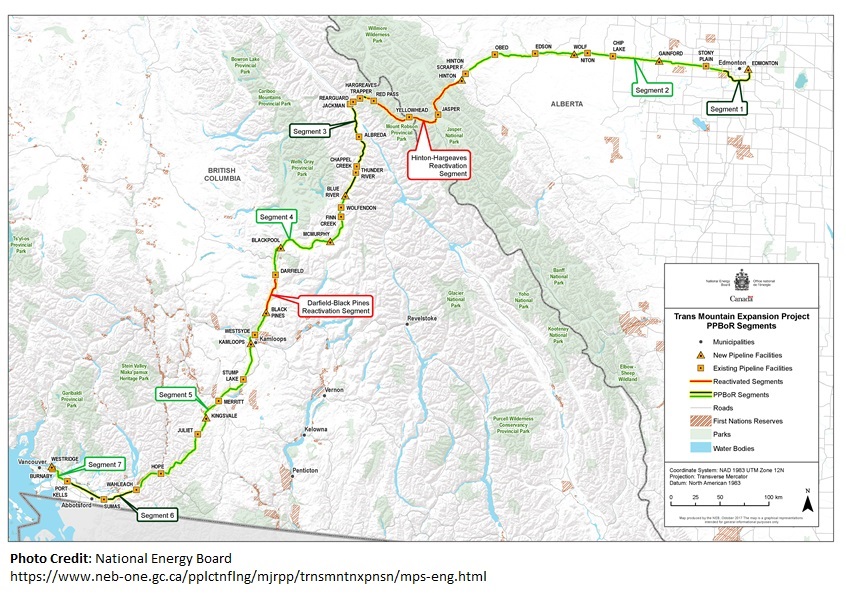 On May 29, 2018, the Government of Canada announced a $4.5 billion deal with Kinder Morgan to purchase the Trans Mountain pipeline and related terminal assets "in order to secure the timely completion" of the project.
The Trans Mountain pipeline expansion project is a proposal to twin the existing 1,147 kilometer Trans Mountain pipeline system and to build 981 kilometers of new pipeline. The proposed pipeline system would run from Edmonton, Alberta to Burnaby, British Columbia, and ship an estimated 890,000 barrels of oil per day. In November 2016, the Government of Canada approved the construction of the project, subject to 157 conditions.
As we have written about in previous posts (see here and here), the Trans Mountain project has faced a number of challenges since its NEB approval. On April 8, 2018, Kinder Morgan Canada Limited announced that it is "suspending all non-essential activities and related spending on the Trans Mountain Expansion Project." Kinder Morgan noted that while it has the support of the federal, Alberta and Saskatchewan governments for the project, it faces continued active opposition from the government of British Columbia. This has led Kinder Morgan to determine that there is risk with continuing to spend money on the project. Kinder Morgan set a deadline of May 31, 2018 to reach agreements with stakeholders that may allow the project to proceed.
The deal to purchase the Trans Mountain pipeline is expected to close in August 2018. The Government of Canada does not intend to be the long-term owner of the project. Rather, at some point in the future, "Canada will work with investors to transfer the project and related assets to a new owner or owners." The new owner or owners of the project will be protected by federal indemnity in case of "costs associated with politically motivated delays" and Alberta will contribute to the cost of construction through an emergency fund in the event of "unforeseen circumstances."