Partner Randy Williamson Recognized For His Contributions to Innovation York at StartupSource Market Entry Award Ceremony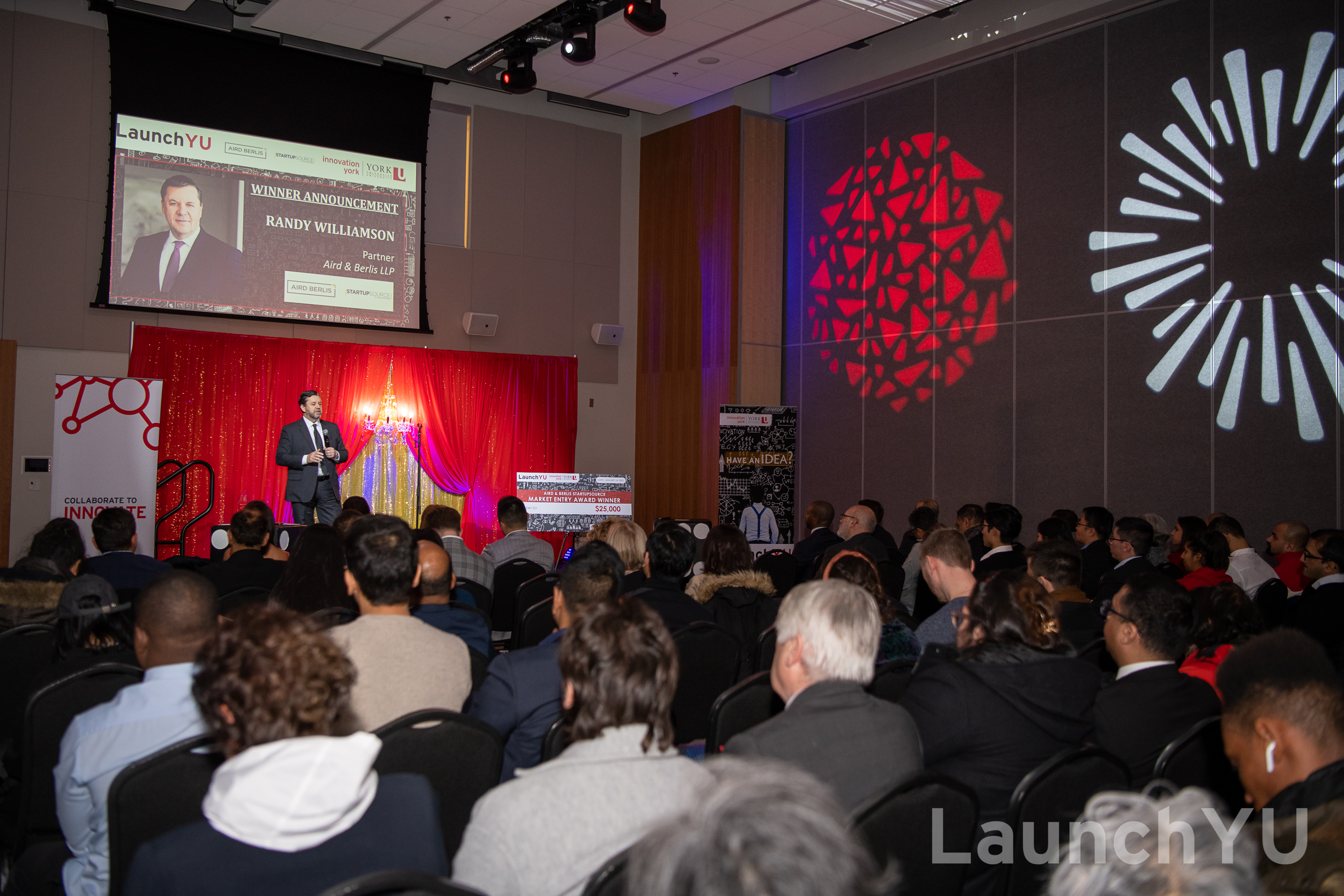 Last week, the top three startups from the 2019 LaunchYU Accelerator program presented their final pitches in competition for our annual Aird & Berlis Startup Source Market Entry Award. The startups eligible for this award are graduates of York University's LaunchYU Accelerator program and this year's finalists included BIOSA Technologies, SUKU Vitamins and AYD Cares. The startups were judged based on their potential for commercial success and their ability to scale and market their ventures.
Following a difficult deliberation by a panel of judges, we were honoured to present our Startup Source Market Entry Award to BIOSA Technologies. BIOSA Technologies is a unique bio-technology startup specializing in small and large scale stabilization of enzymes, resulting in reduced spoilage and a longer shelf life for various consumer products, including paint, textiles and wine.
Nicholas Ledra, the founder of BIOSA Technologies, was awarded $12,500 in cash and an equal amount in legal services from Partner Randy Williamson, Graham Topa and Tony Sabeta, Directors of the firm's Startups Group.
Randy was honoured with Innovation York's inaugural Partner of the Year Award, which recognizes the outstanding contributions of an individual or organization to Innovation York and the growth of innovation at the university. He stated that, "the Aird & Berlis StartupSource Market Entry Award [was created] precisely to acknowledge companies like BIOSA, and York`s support for entrepreneurs like Nicholas Ledra … York University has been a wonderful partner to work with these last three years and I'm honoured to receive Innovation York's first Partner of the Year award on behalf of my colleagues at Aird & Berlis LLP."
You can learn more about LaunchYU's Accelerator program in a previous post. Applications are now open for York University's summer accelerator program, which will begin in May 2020. This four-month program will guide entrepreneurs as they develop and launch their startup initiatives. To apply for the program, click here.