Aird & Berlis Supports York University Startups with Annual Award

Aird & Berlis recently announced that it had committed to providing $100,000 worth of support to the next generation of top entrepreneurs coming out of York University's AccelerateUP program. For each of the next four years, select companies in the AccelerateUP program will compete for the Aird & Berlis StartupSource Market Entry Award, consisting of $12,500 in cash and $12,500 in ongoing legal support. The commitments came from Randy Williamson, a partner of Aird & Berlis, and Aird & Berlis's Startup Team, represented by Graham Topa and Daniel Everall.
AccelerateUP is an intensive 20-week training program run by Innovation York, during which students develop the key skills and literacy needed to succeed in the startup world. The course concluded with a graduation event on September 19 where students pitched their ventures to the audience, which was made up of industry executives, investors and government officials. The top three winning ventures – CellFace, KPI Ninja, and Lyfresh Technologies – were awarded $5,000 each by Innovation York, the entrepreneurship arm of York University.
These winning ventures illustrate the diversity of ideas that are making waves in York's startup scene:
CellFace provides stem cell researchers with the technology to direct the development of stem cells into preferred cell types;
KPI Ninja provides cloud-based operational and performance analytics to hospitals, which allows hospitals to deliver better and more effective healthcare; and
Lyofresh Technologies improves on current dry-freeze technology by making freeze dryers more effective and affordable.
Throughout the fall, these three ventures will compete for the inaugural Aird & Berlis StartupSource Market Entry Award.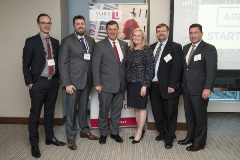 Representatives of Aird & Berlis LLP and York University announced an award for York U startups. Shown left to right are: Daniel Everall, Associate, Aird & Berlis; Graham Topa, Associate, Aird & Berlis; Randy Williamson, Partner, Aird & Berlis; Rhonda Lenton, York University President and Vice-Chancellor; Robert Haché Vice-President Research & Innovation; and Jeff O'Hagan, Vice-President Advancement.