Powerful Women: Bonnie Hiltz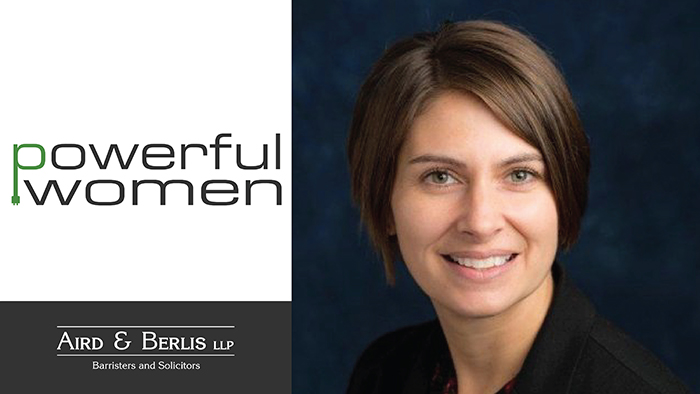 Our second contributor to the Powerful Women series is Bonnie Hiltz. Bonnie has been the Government Relations and Regulatory Affairs Advisor for ENGIE Canada since 2014. This position has her very actively engaged in a number of energy markets across Canada, working to open up new market opportunities for clean and renewable generation. She has lived and worked abroad in France, Switzerland, Costa Rica and the United States.
How did you get involved in the energy sector?
I have always been interested in policy development generally, but my original area of focus was international development. I hold a Collaborative MA in Political Science and International Studies from the University of Toronto. Before entering the energy sector, I worked in Canada and abroad in the areas of healthcare, international trade and economic development.
My first job in the energy sector came when I returned to Canada in 2005. With the help of a female friend and mentor, I found a job on a small team within the Ministry of Energy that was responsible for the design and rollout of Ontario's early renewable energy procurements. Over the next five years, I was actively involved in the policy development of initiatives such as the Renewable Requests for Proposals, RESOP, natural gas contracts, coal phase-out, Combined Heat and Power, the Supply Mix/IPSP, the Green Energy Act and, ultimately, the Feed-in Tariff Program. What a fascinating time to be involved in energy policy in Ontario!
From there, I took a position with the Ontario Power Authority managing the newly-awarded FIT contracts. The newness of the program, combined with the evolving regulatory approvals, domestic content requirements and other challenges, made for some very interesting and unique challenges as a large volume of contracts all worked to reach operation.
For the last two years, I have been working as the Government and Regulatory Affairs Advisor for ENGIE Canada, where I am responsible for government and external relations for Canadian markets. I am also actively involved in several leading industry associations and have been elected to the Boards of Directors for both the Canadian Wind Energy Association (CanWEA) and the Canadian Solar Industry Association (CanSIA).
My favourite part about the electricity sector in Ontario is the nearly endless opportunity for learning and professional growth. Regardless of one's specific training, skillset or interest, there is most certainly some aspect of this sector that can challenge and motivate you to get involved.
What do you see as the key challenges facing ENGIE and/or Ontario's energy sector today and going forward?
We are currently at a time of reflection in Ontario's electricity sector, but also seemingly on the cusp of another great transition. As conceived in the recently-approved Energy Statute Law Amendment Act, 2016, the IESO is seeking input on its Ontario Planning Outlook (OPO) that will inform the Government's next Long-Term Energy Plan (LTEP). At the same time, the Government has released details on its Climate Change Action Plan, which seeks to transform energy use in transportation, vehicles, buildings and many more areas of the economy. Climate policy is poised to influence the electricity sector in many ways, including the introduction of a Cap and Trade system, ambitious emissions reduction targets and new goals for electrification in areas such as vehicles and home heating.
This new policy context has the potential to create tremendous opportunity in Ontario's electricity sector. The coming energy transition, as seen in other mature markets around the globe, will be characterized by increased demand for renewable energy, increased distributed generation and increased customer control over their energy consumption. While this kind of transition can be difficult under some market conditions, the unique characteristics of Ontario's electricity market means it is well positioned to make this transition, while still protecting and leveraging the valuable investments that have been made to date.
What Ontario will need next to achieve this success will be a very clear framework outlined in the LTEP and resulting IESO, OEB and LDC activities, to signal where investments should be made and ensuring the right regulatory and economic structures are in place to enable it to succeed. The sector is greatly anticipating this new phase of electricity planning and is ready to make the investments and innovations required to help transition the province to a low-carbon economy.
What are the key challenges and opportunities that you see for women as leaders? Are there any challenges or opportunities that you think are more critical or relevant in the context of the energy sector?
It is no secret to anyone in this sector, least of all women, that our industry has not yet reached gender parity. This is true not only in terms of overall male-female ratios, but also with respect to levels of seniority and compensation within both public and private institutions. While part of this discrepancy is attributable to a lower percentage of graduates in certain relevant fields (for example, only 19% of Canadian engineering students were female in 2014 according to the Ontario Network of Women in Engineering), that difference alone does not account for the persistent disparities, especially in light of the diverse skillsets required in the energy sector.
Despite those remaining disparities, women are gradually taking on more leadership roles and are reshaping our views on gender roles and leadership. Our sector can also take the lead from broader initiatives to increase the number of women leaders in companies, Boards and in government (take our recent Federal and Provincial Cabinets as recent examples). Such concerted efforts to increase female leadership opportunities reach beyond our energy sector, but do signal greater opportunities to come for women leaders in energy.
What advice do you have for a woman starting her career in the energy sector?
Believe in yourself. Build strong networks. Welcome the challenge.