New Website Shows Cap and Trade Costs For Ontario Consumers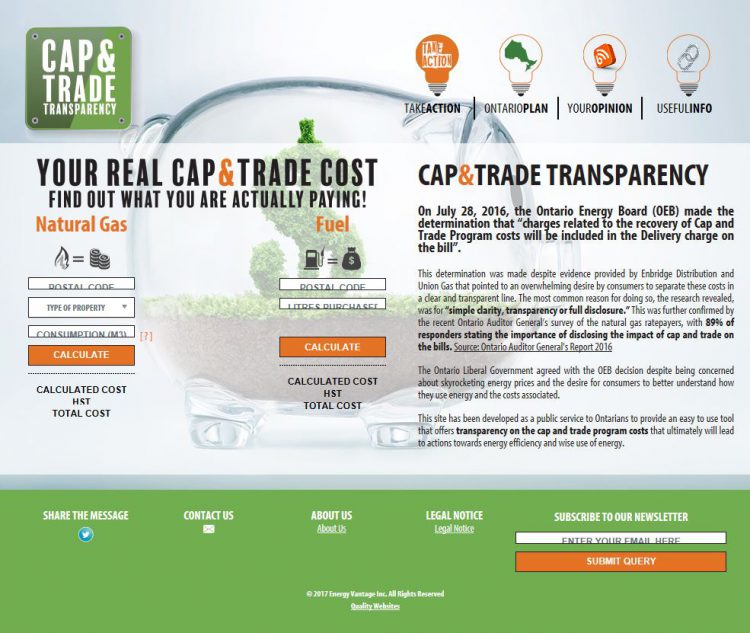 Ontario's Cap and Trade program commenced on January 1, 2017. As we have discussed in earlier posts (here and here), the Ontario Energy Board previously determined that Cap and Trade costs will not be presented as a separate line item on natural gas bills. Instead, the Cap and Trade costs will be included as part of the "distribution" costs. Similarly, the costs charged for gasoline in Ontario will not break out the included Cap and Trade costs paid by distributors and passed along to consumers.
An interesting new website called Cap & Trade Transparency allows Ontario consumers to calculate the amounts that they will be paying for the Cap and Trade program. The stated reason for the website is "to provide an easy to use tool that offers transparency on the cap and trade program costs that ultimately will lead to actions towards energy efficiency and wise use of energy." The calculations of Cap and Trade costs on the Cap & Trade Transparency website are determined based on the consumer's location and estimated consumption of natural gas and gasoline. To obtain an accurate calculation of your Cap and Trade costs, it will be necessary to have a good estimate of your annual (or monthly) consumption of natural gas and gasoline.